Entire Menu Duplicated Here for Convenience
Hobbies and the Like - Page 1 Go to Hobbies and the Like Page 2
Class of '58 Classmates are active in all sorts of stuff
Classmate Jerry Freeman and wife Jan own and show Championship Arabians - Here's the Interview Story ...
Background:
- How and when did you become interested in Arabians?
I first became interested in the Arabian breed in the mid 1980's. A co-worker owned an Arabian and was transferred to an assignment in one of our Brazilian plants (we all worked for Cat). He left the horse with a common friend for a few years. I rode the mare for some time and when he came back, he wanted to sell her. So in 1986 I bought her. I kept her until she passed away a few years ago at the age of 28. She was a pretty mare that was as versatile as they come. We showed to blue ribbons, she could pull a carriage on a busy highway with a calm demeanor, go on trail rides and work on cattle drives. Arabs are a long lived breed of horse. They can and do live 35 yrs barring unusual health problems.
- How, when and where did you actually get started?
I had an early interest in horses. As a child I used to go to my aunt and uncles farm near Findlay Ill. They always kept a horse or two for checking on the cattle. In those days, the 1950's, most of that generation farmed with horses about twenty years before. So they were horse oriented. Another family relative also kept horses and esp. a pony or small horse. So I went where I could ride and was invited. One couple had no children and they invited me to stay for a week or 10 days. I must have been a good guest because they often invited me back to ride a nice little black and white pony named Popcorn. I was never allowed to ride with a saddle because they thought it was too dangerous with a saddle. So I put a blanket over the horse, led him to fence, climbed on and rode bareback. There were many a day when the sweat soaked thru the blanket and I came back with the tell tale wet jeans from riding horses. When I bought my first horse I started using a saddle. Equestrians always say riding bareback is the best way to become a really good rider.
- Is this a hobby or something more?
Showing horses is a good way to make a small fortune out of a big one. One must choose the time, place and circumstances because it's not only time consuming but costly at times. As for me, it's just something I do for my own personal pleasure. There is a lot of personal satisfaction in breeding, training and showing them successfully. Horses are subtle animals in their reactions. Each one has their own distinct personality. Once you are acquainted with them, it's clear what they like and dislike in their personal idiosyncrasies. Some are quite timid, others bold. Some are very strong willed and push to do what they want...or are stubborn we would say. And some have tempers....like children. They are very expressive in their own way...you will know when they are mad. Others are so tractable and mindful they are like dogs. I have one that you can actually see that he is chastened when he gets in trouble. Arabians are very smart ... they think about the days events and if they do something wrong, they often figure it out if you tie them in their stall to think about what happened during training. Recently, my young 3yr old gelding didn't want to come to me to be brought in. So I left him out until very late at night and he missed his dinner. He is now the first one to want his halter to be put on. They have good memories.
Few people know that horses remember people, places and events for years. They have excellent memories; both visually and of events. If something is out of place when they are put back into the barn....they know it and will let you know there is something different. And they are good watch horses. All I have to do is look at them in the pasture. If there are all staring at something with heads and ears up.....you can bet there is something they are looking at. Perhaps a deer, coyote, another horse rider or someone walking in the desert. There is no mistaking that they see something.
Horses are the only animal that will work itself to death for you....literally. They will go and go until they collapse if asked for by the rider. Although no one rides them to this extent, they will do their best to give you everything they have. Injured horses are not like other animals either. The don't yelp or cry out but suffer in silence...even with the worst of wounds. But they know when you are trying to help them and and remember it for the rest of their lives.
What's involved in raising and showing horses:
- Do you breed Arabians as well as show them?
For several years, I did breed, raise and train my own horses. It takes a lot of time and effort to breed and raise foals. From the start of breeding until 3 yrs old, an owner really has no idea what kind of horse it will turn out to be. Now, I look for certain pedigrees that I know are quick minded, gentle and take to training easily. It's still very much a guess but buying them at 2 or 3 yrs old saves 2- or 3 yrs of the process. And don't forget the gestation period of mares is 11 months and can range up to 12 months safely. So, once you decide to breed, it's 4yrs until you know what kind of riding horse you will have. Some start at younger ages but I start them at 3 yrs of age. That's when the knee growth plate is closed and they can take riding pressure.
- Do you do the training and show preparation yourself?
I've done it both ways. My normal method is is train myself and show myself. Since I no longer breed my own, I buy my prospects, break them to ride and then send them to a trainer for getting them in the correct body frame for their show gaits...the jogtrot, lope and walk. The exception to the training regimen for me is for the Arabian Nationals Competition which requires the help of a professional trainer. But that's another story.
- What horses do you have now / what have you had?
I've had a lot of horses over the years before I settled on Arabians. I've had Quarter horses, a Morgan, some grade horses, and a Palomino. I bought my first horse in 1960 at a horse auction in Neoga. She was a big strawberry roan mare with one blind eye. She was a nice looking horse and I paid $110 for her in 1960...which was quite a lot of money for me. Unknown to me, she had been sedated and was easy to handle ... until the next day. It took several days to get in the stall with her...she was a bit mean but I eventually worked it out of her. I sold her a few years later for $90.
- Why did you choose Arabians as opposed to other breeds?
I became impressed with the intelligence, beauty and friendliness of Arabians. Arabians come from the Arabian Peninsula in desert areas. For thousands of years, the Bedouins selectively bred for the best, smartest and most tractable horses. They were pets but earned their keep. They were always kept in close proximity to humans to the point that they were housed in the tents with the people at night....for protection. Naturally, they wanted people oriented horses. Those that were people oriented and were the prettiest of the breed were the ones that were the most sought after. So over the thousand of years of breeding for the best traits, we have the fruits of that selective breeding. One thing most people don't know is that purebred Arab horses only come in Bay, Chestnut, gray and black. There are few truly black horses because the Bedouins considered them the work of the devil and killed them. Similarly, they liked the gray (white) horses as a symbol of good. So the black Arabs of today are the product of recessive gene breeding to get the black coat.
- How are Arabians named?
Khemonfire was a horse whose mother I owned and I owned her mother's mother too ... Khemonfire's grandmother. It's a combination of names of sires and dams. Khemonfire's daddy was a prolific stallion that produced 2,500 foals ... most all by artificial insemination. His name was Khemosabi ... a famous Arabian Stallion now passed away. Her mother was my mare Fireazon ... hence ... Khemonfire. No Arabian horse can have the same name as another horse ... ever. So you have to research names to get an original one. Even the horses passed away ... their names can't be used ... everyone is original.
- What organizations are you with for showing?
To be able to show competitively, one must join a local Arabian Horse Club that is affiliated with the National Organization. Dues are paid thru the local that includes the fees for the National Arabian Horse Association. There is an over-arching organization for showing under common rules and regulations called the United States Equestrian Association that exhibitors must also pay dues to.
- Where do you show / at what level of competition?
There are many local shows and mixed breed shows that one can show in ... even County and State Fairs. When I lived and showed in Ill, I took my Illinois bred mare to the State Fair and showed her in the Illinois bred and born Arabian horse class. We won that trophy 5 years in a row. Recently, I have confined my showing to the Class A level which is the level one must show to advance to the Regionals (usually three states comprise a region). And once qualified with enough wins or placing (points) you can get qualified to show against the best of the best at the Arabian Nationals which are held once a year. It is a much sought after honor to win, of course, but also it's very prestigious to have a horse awarded a Top Ten in National Competition. For those that want to sell their horse, wins add much value to your horse and increases their worth considerably. The National Arabian Horse is the top level of competition. You can be sure any horse showing at this level is a champion horse.
- What awards have you earned at shows?
I've been successful in showing horses and garnering ribbons at all levels. One mare I bred and lost a couple of years ago, won 190 ribbons for us. We got the gate a lot too but we won once in a while. Every horse I have, has won ribbons for me and have placed highly even on their first big show. My gelding Khapri Sun is the most successful of all. I've won multiple Championships with him at the Class A level and the Regional level. This year, he was ready for the Nationals and breezed through the elimination classes doing beautifully until the finals. He came across a pen full of bawling calves which un-nerved him. Not every horse has seen calves...he was one of them. We were placed 11th...missing the coveted National Top Ten by one place.
The future:
- What are your intentions for future Arabian activities?
I will continue to keep, ride and show horses as long as I am able. It's good muscle toning exercise caring for and riding horses which keeps me in shape and highly active. One needs a modicum of strength to deal with a 1,000+ animal that might try to exert his will over yours. But the main thing is to be smarter than the horse. It's not as easy or as funny as it sounds. And then there is the hay...which average 105 lbs per bale here in Az. Tossing these around doesn't make muscle ... it takes muscle and tractors can't do everything.
Some of Jerry's Arabians ...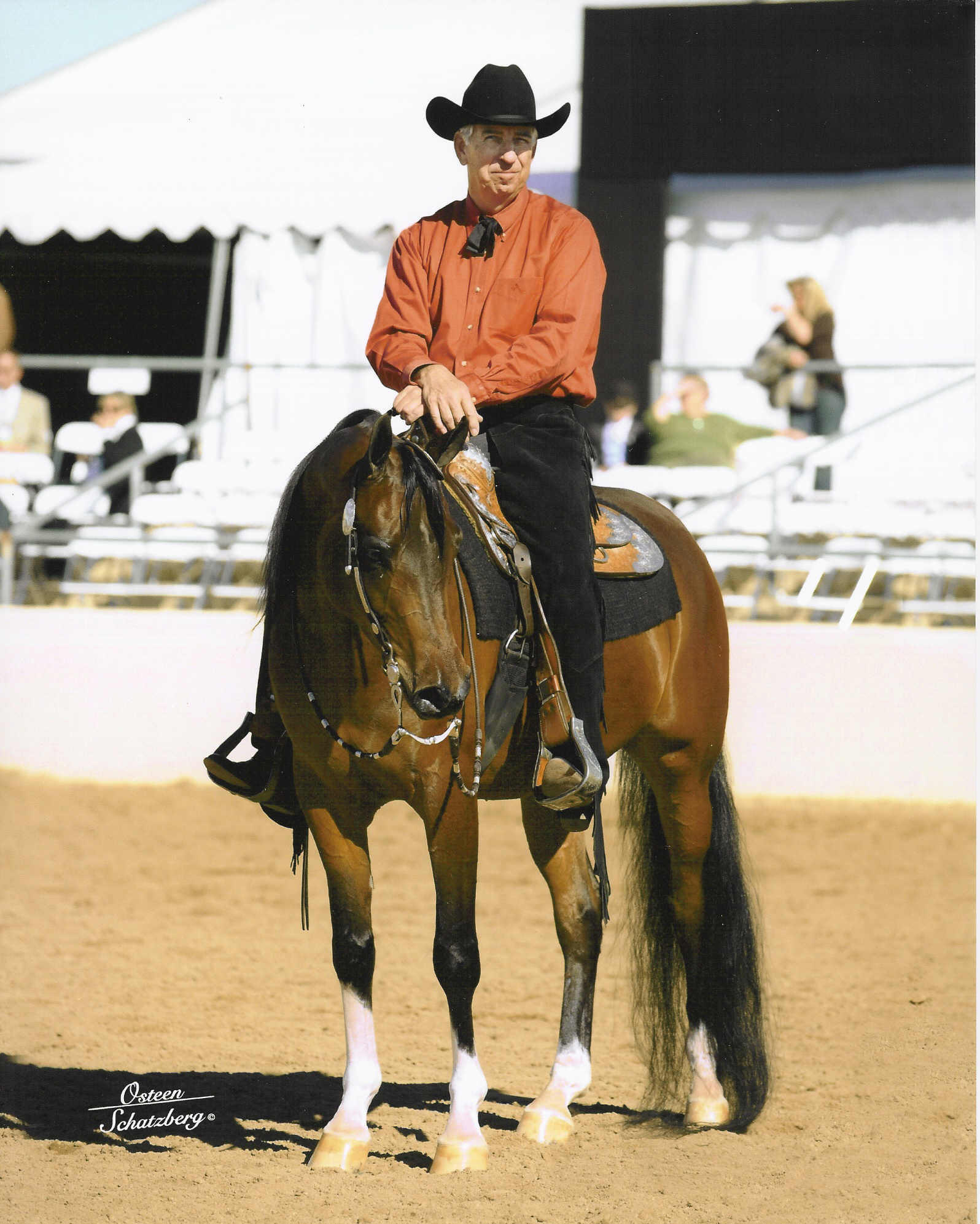 Khapri Sun at Scottsdale, Arizona Arabian Horse show at WestWorld in Feb. 2009. We were relaxing after the class but waiting for the results. This is Jerry's favorite horse and rider picture.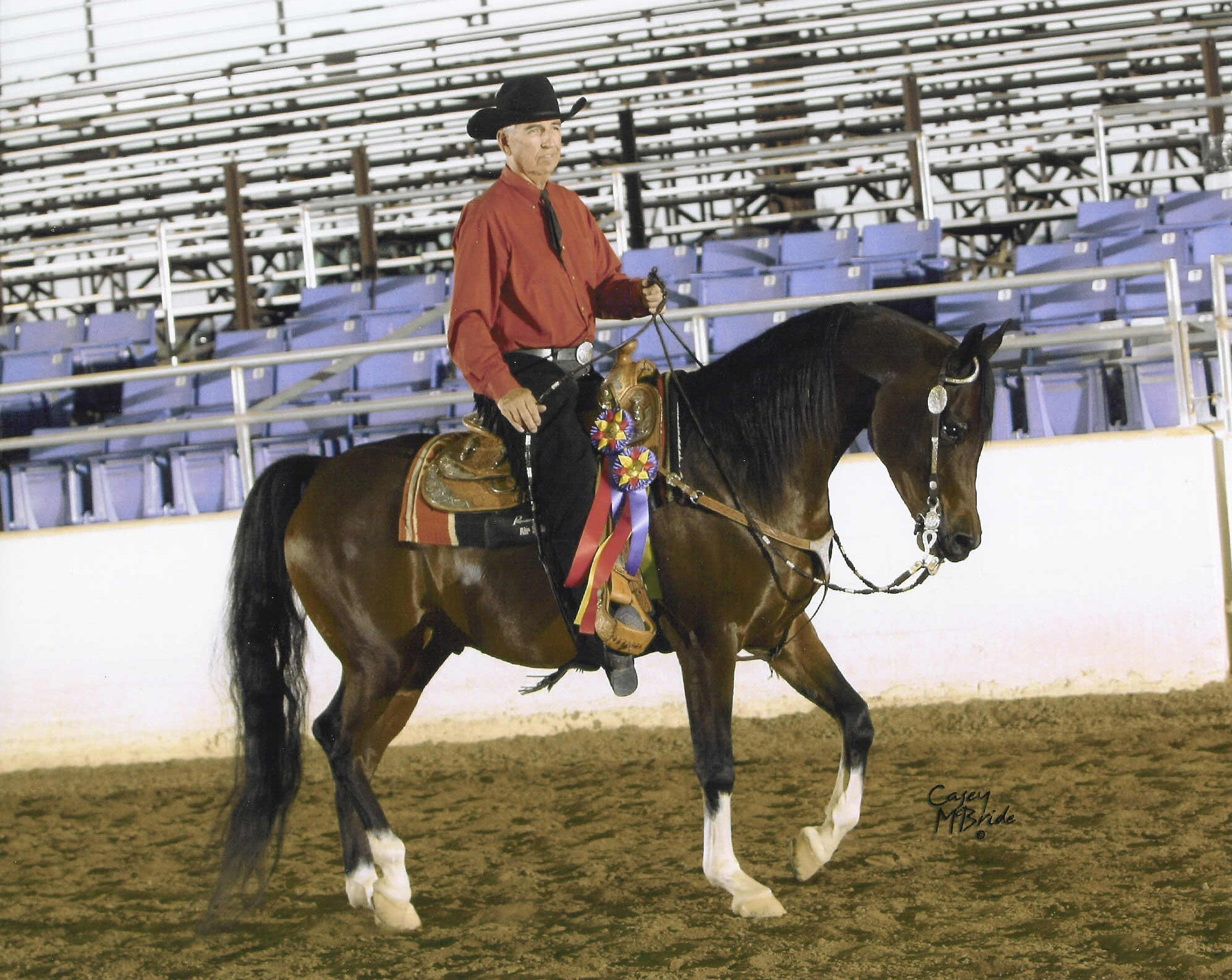 Khapri Sun winning a rare double championship at the AHA Fall Festival in Scottsdale, Az on Nov. 20, 2009.
| | |
| --- | --- |
| | |
| Jerry has won numerous heavy duty awards (see below) | |
| | |
| | |
| Khemonfire 2002 | Jerry's other Arabians include this Piper Seminole Twin |
Some of Jerry's Awards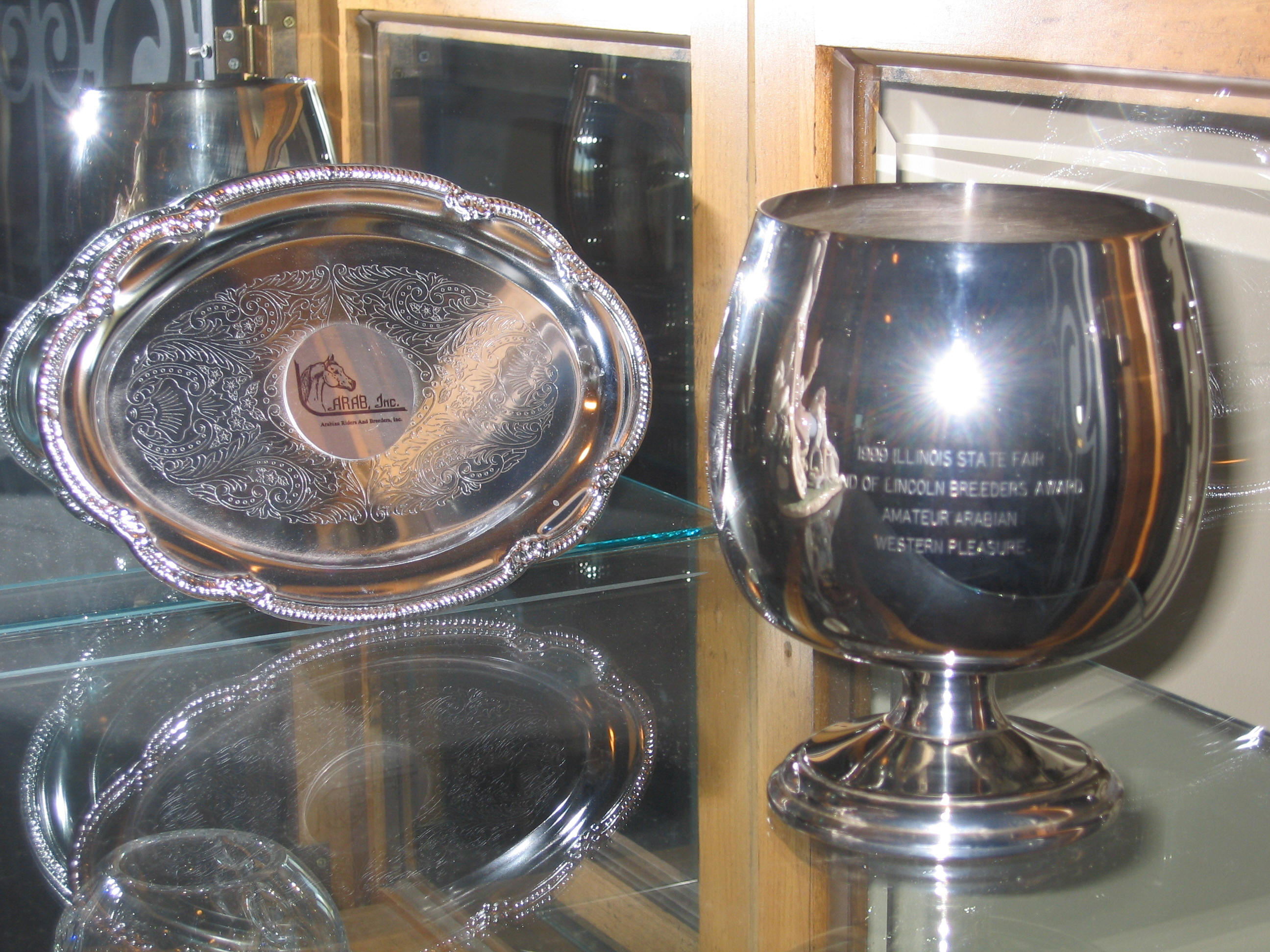 Khemonfire won this 1999 Ill State Fair Trophy for the Land of Lincoln born and bred Horse. Amateur Western Pleasure.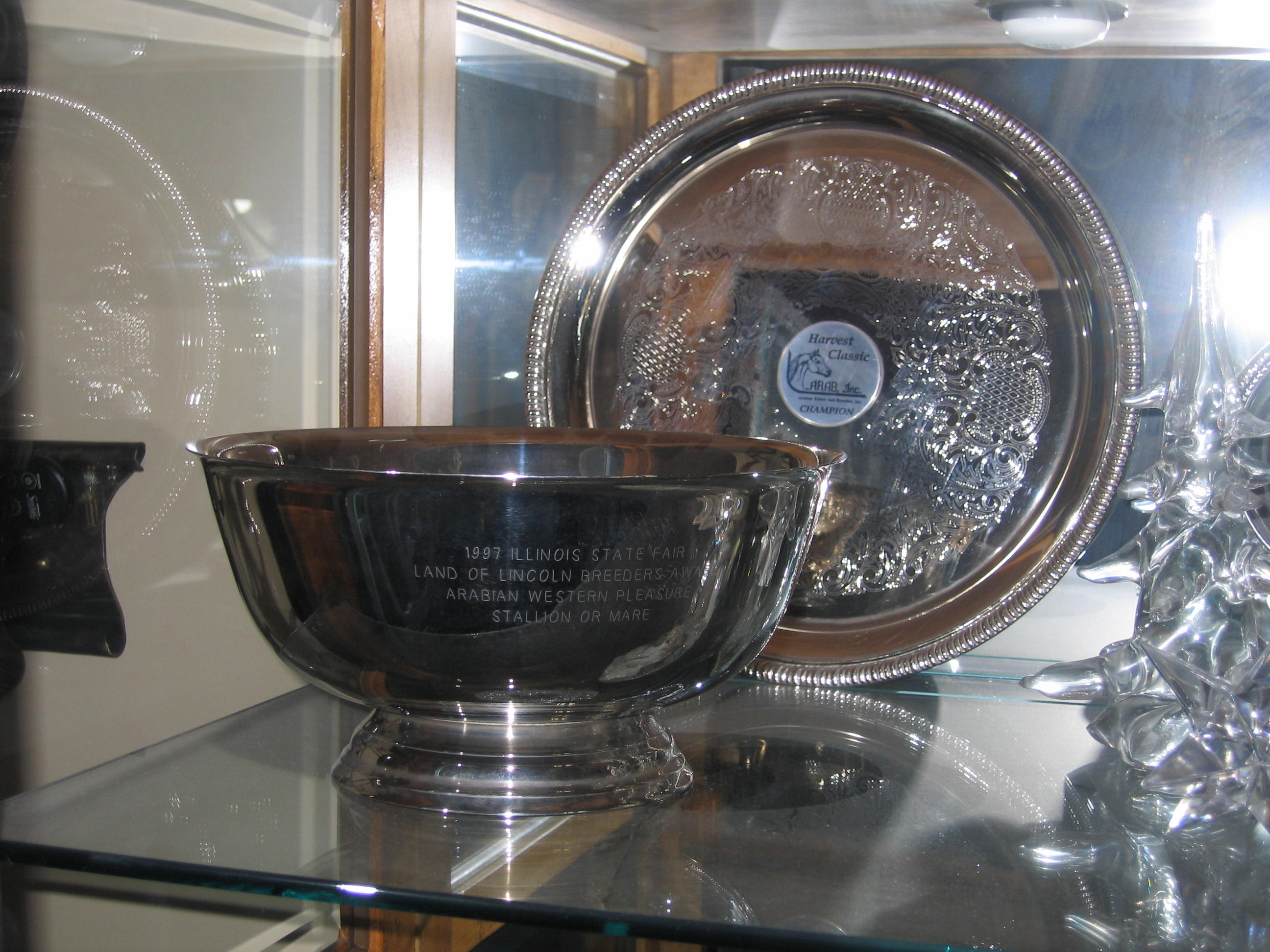 Land of Lincoln Breeders Award in Amateur Western Pleasure Mare or Stallion. Illinois State Fair. Khemonfire won this Award 5 yrs in a row 1997-2002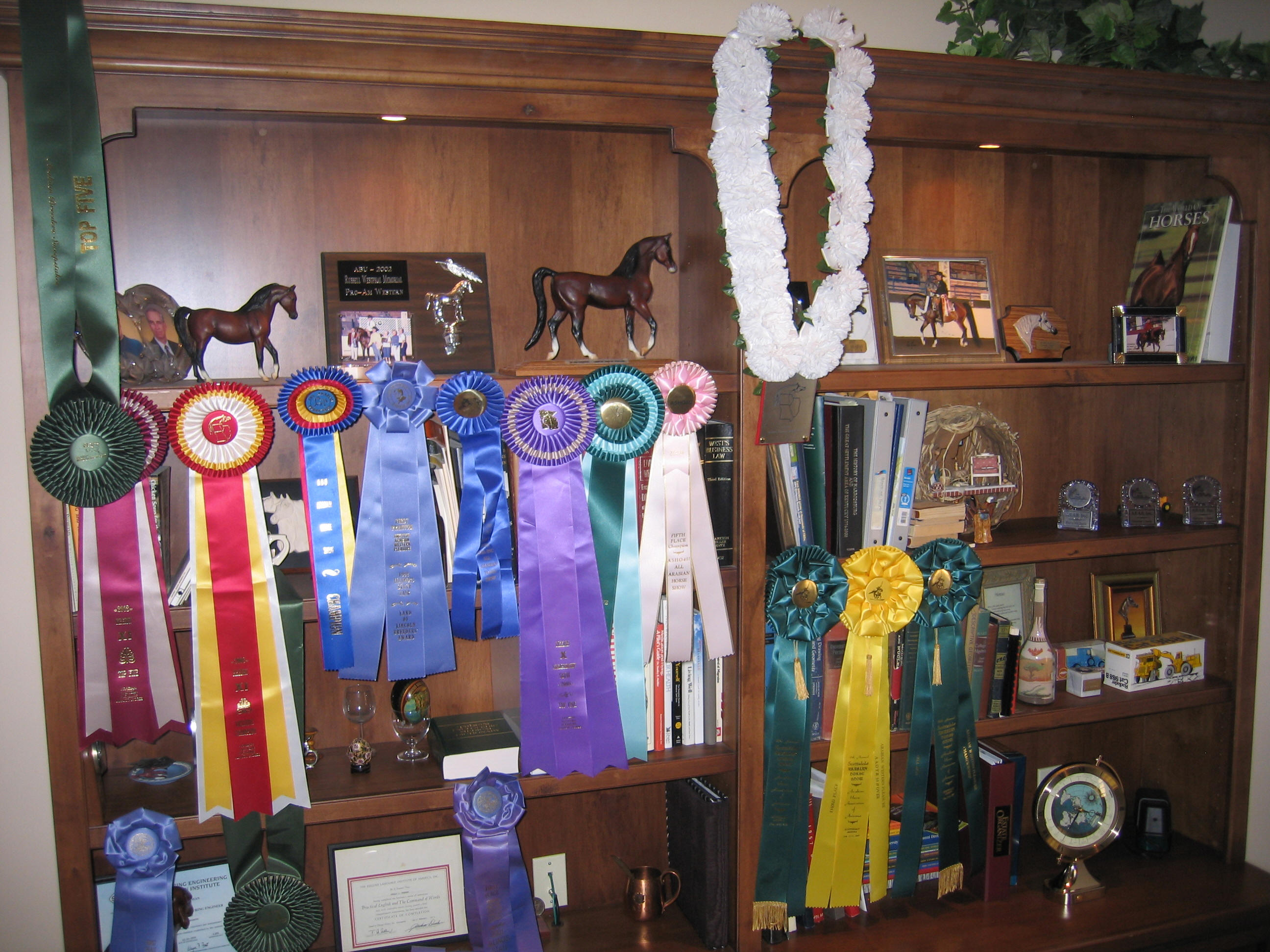 Ribbons and Garlands won by Khapri Sun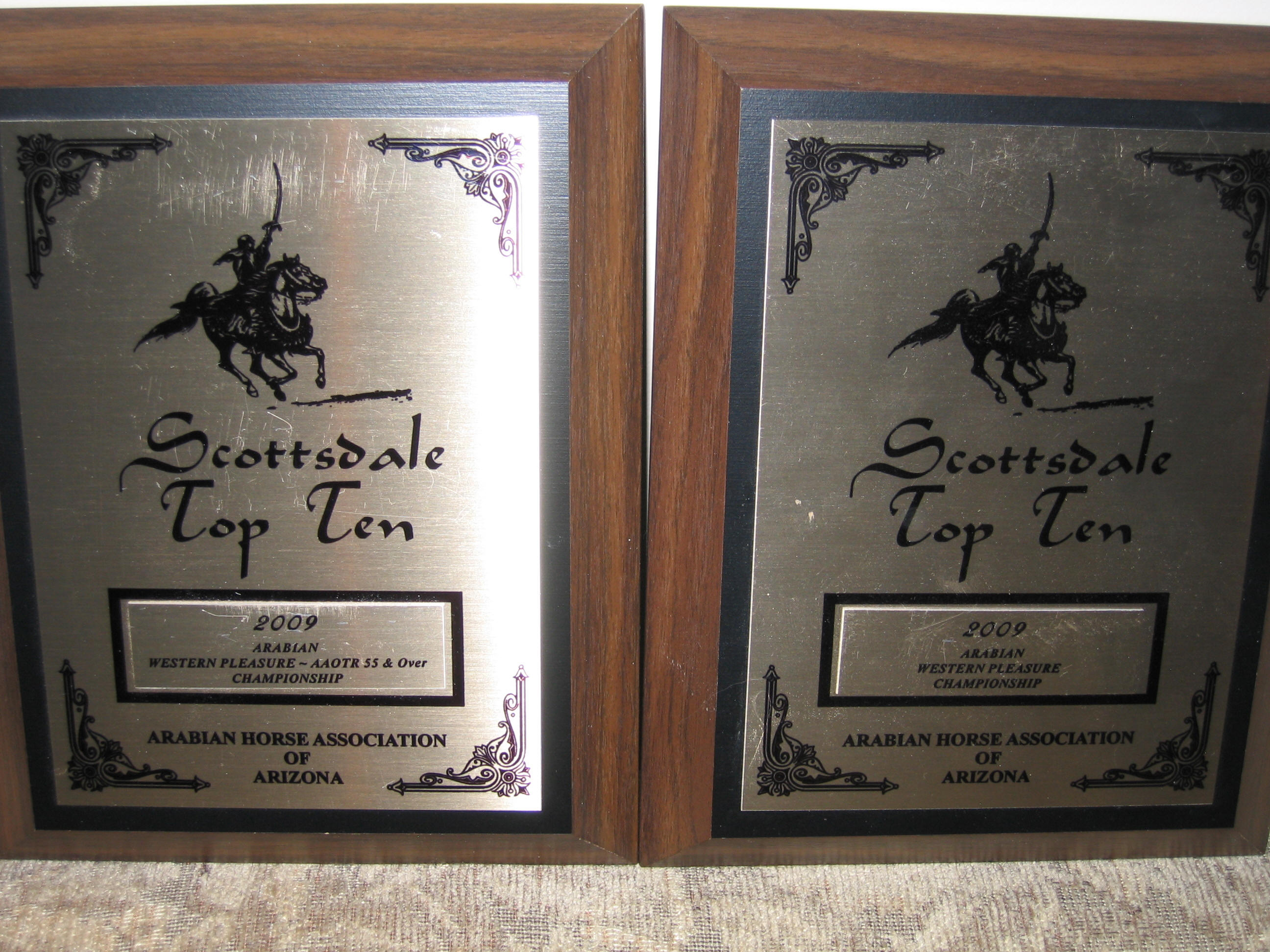 Khapri Sun placed in the Top Ten of his class in the Annual Scottsdale Arabian Horse - Feb 2009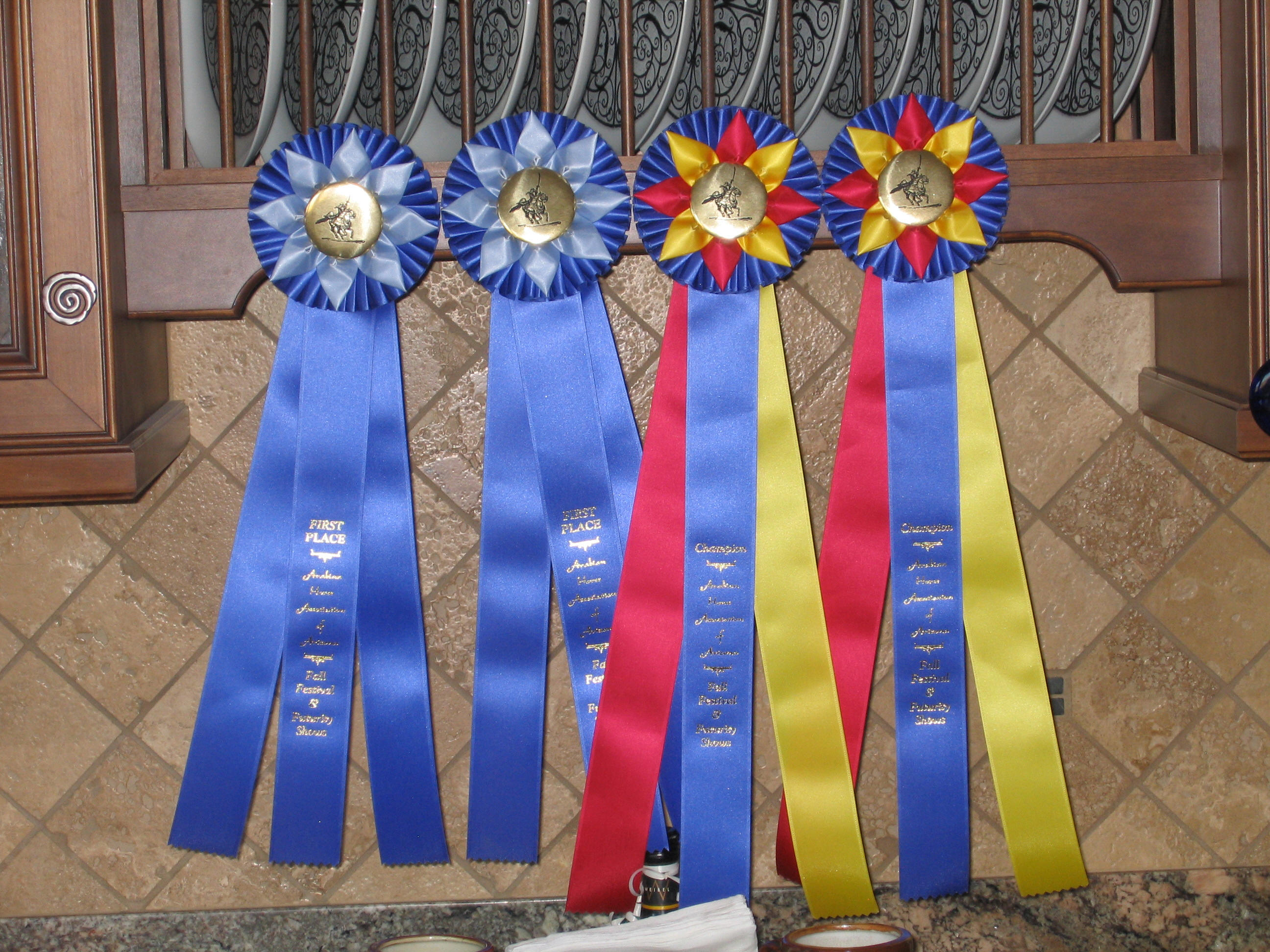 Nov. 2009 1st Place & Championships Ribbons won at the Scottsdale Fall Festival Show by Khapri Sun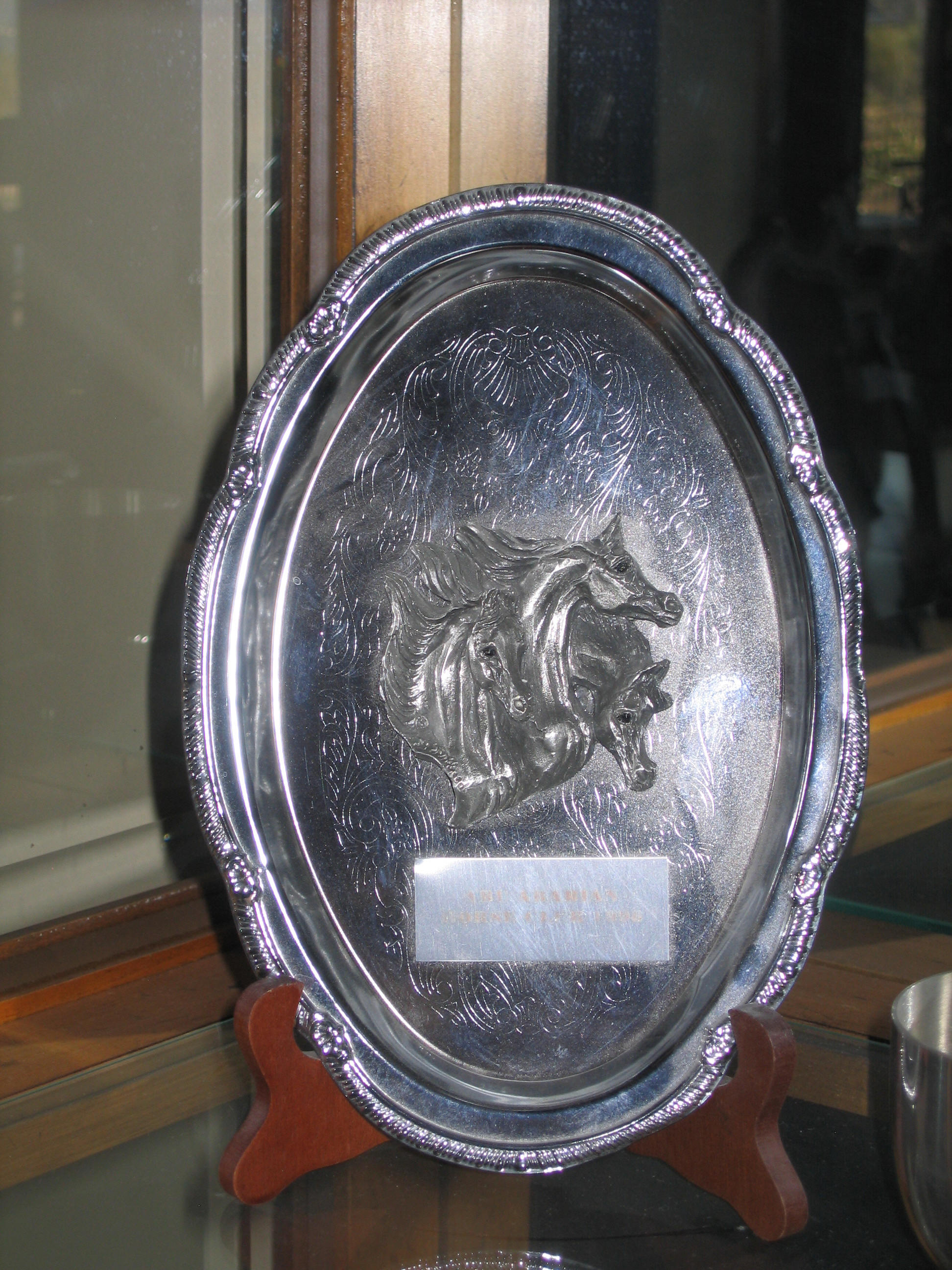 One of many Trophies won by Khemonfire